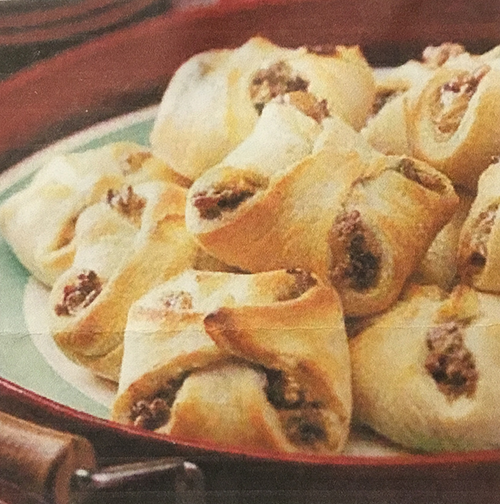 Ingredients:
Dough:
1 package active dry yeast
1/3 cup warm water
1/3 cup warm milk (110 to 115 degrees)
1/8 cup sugar
1/8 cup shortening
1 egg
1 tsp salt
2-1/4 to 2-1/2 cups flour
May need to make a double batch of dough for the amount of filling below.
Filling:
1/2 pound bacon cooked and diced
1 pound ground beef
1/2 small onion, chopped
1 tsp salt
1/4 tsp pepper
1 pound Velveta processed cheese
In a large bowl, dissolve yeast in warm water. Add warm milk, sugar, shortening, egg, salt and most of the flour. Beat until smooth. Stir in enough flour to make a soft dough. May also be made in bread machine on manual setting. Knead until smooth and elastic, about 6 minutes. Place in greased bowl, turning once to grease top. Cover and let rise in a warm place until doubled, about 1 hour.
Meanwhile, in a large skillet, brown ground beef with onion. Bake the bacon on a cookie sheet for about 25 minutes at 350 degrees. Cool bacon, chop. Put all filling ingredients in a crock pot to melt the cheese. Mix well.
Punch dough down, turn onto a lightly floured surface. Divide into fourths. Roll each portion into 12″ x 8″ rectangle. Cut rectangle into 6 squares. Place 1/4 cup meat mixture in the center of each square. Bring the corners together in the center and pinch to seat. Use milk or water to seal if necessary.
Place 2″ apart on a greased baking sheet or parchment paper. Bake at 400 degrees for 9-11 minutes or until lightly browned. Brush with butter.